Sleep King Delivery Information
"Buy it today sleep on it tonight."
On sight warehousing means you will get it today.
Sleep King always offers Free same day delivery for setup and removal.
We have 5 Star delivery service, you will get your bed in a 2 hour window, If you are not happy with your bed we will replace 3 times or until we get you comfortable.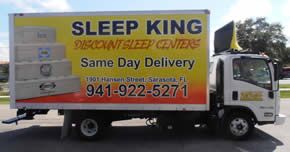 Where Does Sleep King Deliver? We deliver anywhere in Sarasota, Manatee, and Charlotte County that is road accessible.
Your Mattress Delivery: Your new mattress will be brought into your home, unpacked and set up in your bedroom.
Mattress Removal: As part of Sleep King's Delivery service, your old mattress will be removed and discarded on your behalf.
44 years in the same locations we must be doing something right.
For more information on delivery, please call 1-941-922-5271 with any questions.